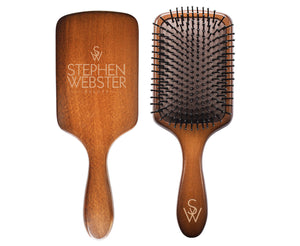 After much anticipation, a customer favorite back. This best quality wooden brush is engraved with the signature Stephen Webster Beauty logo. This mark exemplifies the quality you've come to know, love and expect from this brand. Detangle|Dry&Smooth is the preferred brush of your favorite hairstylists.

There's a reason this brush sells out every time. You will find that it truly lives up to its name; by effortlessly Detangling, Drying & Smoothing your fine, kinky or curly textured hair to perfection.    
*please note this brush is manufactured with one to two bristles missing. this is not a defect but an element of the design for functional purposes.